Description
Dumpy Sacks For Sale, Used by various industries. Ideal packaging solution for the easy filling, discharging, storing, and transporting of materials such as aggregates, logs, granules, etc.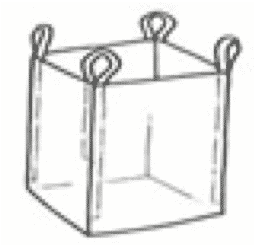 Open Top / Plain base.
Size : 86cm x 86cm x 86cm
These dumpy sacks are Ideal for Construction & Building/Gardening Trades, Packaging use. Used for Mini Skips Bags or for holding Granular products, Bricks, Stones, Sand, Rocks, Rubble Waste, Ballast, Gravel, etc at construction sites.
The benefits of this bag are many, ranging from one person to handle the bag to easily transport used commonly Grab lorries. It can also eliminate the need for a pallet to transport because the bag will simply be hung from its very sturdy straps. Only one person is needed to put the loops on the forklift crane and you are good to go.
You could even use these bags in the home, and especially in the garden for recycling and garden rubbish.
Easy to clean and fold away for convenient storage.Dumpy Sacks For Sale
Images are for illustrative purposes only.